Noctua NH-L9x65 Low-Profile CPU Cooler Review
Pros
Unmatched quality and attention to detail; unique form factor; the best manual and mounting mechanism in the business
Cons
By default runs louder than stock Intel cooler; will not support extreme overclocking; expensive
Rating
Introduction
In the world of PC cooling products, Noctua really needs no introduction. For many years, it has provided enthusiasts the very best fan and heatsink products available, and unlike many other manufacturers, has focused exclusively on air cooling technology. Its case fans are known to be the quietest and most effective on the market, but it's no secret that they are also among the most expensive. So it is with Noctua's line of high-end CPU coolers, from low-profile ultra-compact models to towering dual-fan monoliths. Each one is endowed with a significant amount of engineering know-how derived from years of Noctua being at the top of its game, and the PC cooling market.
Today we're looking at Noctua's newest CPU cooler, the NH-L9x65. The "65" in the name indicates that the cooler is 65mm tall, a key feature given that this is a cooler intended for compact systems. Like its predecessor, the Noctua NH-L9i, it fits within the footprint of the stock Intel and AMD CPU coolers, so it's essentially a drop-in replacement for those coolers. That being said, the 65mm-tall model does differ in that it doesn't have the same low profile as the Intel or AMD box coolers, and therefore will not fit in certain cases, primarily ITX models, that offer very low cooler clearance. This limitation will affect just about every ultra-slim ITX case, as well as some shoebox-style cases that mount the power supply over the motherboard.
For our testing, we compared the NH-L9x65 directly against the Intel box cooler on a stock and overclocked Intel Core i7-4770K, one of the more power-hungry and hot-running CPUs in Intel's stable. We used our standard ATX tower case, which means we might not be as airflow-limited as we would be in an ITX case, but to add a bit of challenge, an GeForce GTX 780 Ti video card with an open-air cooler was utilized, which dumped quite a bit of hot air directly into the CPU mounting area. All told, the numbers we arrived at should be fairly representative of what the NH-L9x65 can handle in various situations.
Note that we actually tested the cooler in three different fan configurations: (1) utilizing motherboard PWM control, (2) running at maximum RPM (which turned out to be 2590RPM, despite the fans 2500RPM rating), (3) and running fanless. We likewise tested the Intel cooler with standard PWM motherboard control and at maximum RPM, but in the case of that cooler, we did not run a fanless configuration.
Special thanks to Noctua for providing this review sample. 
Description and Features
The NH-L9x65 maintains the very compact footprint and uses the same 92mm fan of its predecessor, the NH-L9i, but greatly increases its cooling potential by expanding the heatsink vertically. All told, the NH-L9x65 weighs 20.39oz including fan and mounting hardware, well over double the weight of the Intel stock cooler, which comes in at 8.1oz. Some of that weight can be attributed to the mounting mechanism, which includes a beautifully-machined backplate and robust metal brackets, standing in stark contrast to the Intel cooler's plastic pushpins. But of course, the meat of the cooler is its metal heatsink assembly, and it's clear that this is where the cooler carries the majority of its weight. Not surprisingly, the machining of the heatsink is impeccable – perfectly flat and smooth.
No analysis of a Noctua cooler would be complete without mentioning the truly extraordinary packaging and printed manual. The AMD and Intel mounts come packaged separately, and the manual is written in perfect, clear English, not something you can always count on with tech components. To top it all off, you get a low-noise adapter (which reduces voltage slightly to lower fan speed), a tube of NH-T1 (Noctua's class leading thermal paste), a screwdriver, and a classy metal Noctua case badge. Also impressive is the relative ease with which we installed the NH-L9x65, first attaching the mounting bracket, as shown to the right, and then affixing the heatsink itself, as shown below. The whole process took 15 minutes, and that included reattaching the pre-installed fan, which we removed for purposes of photographing the heatsink on its own. By the way, you can choose to mount the heatsink in two different orientations – we chose to have the heatsink's fins oriented vertically to allow for natural heat convection upwards through the heatsink in our tower case.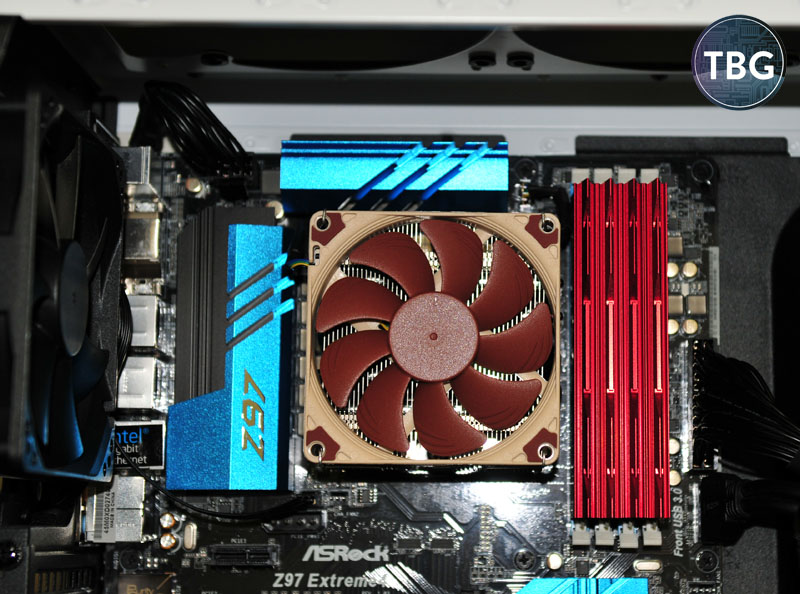 All told, you do get what you pay for, at least in terms of presentation. Even the base of the heatsink looks great, as shown above. But what really counts is how the NH-L9x65 performs, and we have plenty to tell you in that regard as well.
Our test setup was as follows:
Motherboard: ASRock Z97 Extreme4 (thanks to ASRock and Newegg for providing this review sample)
CPU: Intel Core i7-4770K (running at stock and 4.4GHz overclock)
Video Card: MSI GeForce GTX 780 Ti Gaming 3GB
SSD: Crucial MX100 512GB
RAM: 2x G.Skill TridentX 2x4GB DDR3-2400 Kits (16GB total)
Case: Corsair Carbide 500R
Power Supply: EVGA Supernova G2 850W
OS: Windows 8.1
We tested our processor both at stock settings at 1.11V (nominally running at 3.5GHz, but in actuality running at 3.7GHz under all typical loads), as well as overclocked settings (4.4GHz at 1.18V). Note that the 4770K is a fairly power-hungry processor, and while the NH-L9x65 is rated for use with even higher-end LGA2011 processors, we'd guess that most users will actually be using a processor that runs cooler than the 4770K, so this is more or less a worst case scenario. You can see Noctua's guidelines and warnings regarding processor usage on the Noctua website.
Now, onto the results!
Performance
Assessing the performance of the NH-L9x65 is a bit challenging, in that it competes with ultra-compact coolers like the stock AMD and Intel coolers in size, but is firmly in high-end air cooler territory when it comes to price. Indeed, there are a good number of ultra-high performance tower-style coolers in its price bracket. We're preparing a separate article comparing the NH-L9x65 to a wider range of coolers, including a tower-style cooler that retails within a few dollars of the NH-L9x65, but for today, we're pitting it against the one cooler just about anyone considering the NH-L9x65 would likely be replacing, the stock Intel cooler.
As mentioned on the previous page, we tested at both stock and overclocked settings, and we also ran both the Intel and Noctua coolers using standard motherboard PWM control and at maximum RPM. In a few tests, we also ran the Noctua with its included low-noise adapter, and even tried it in fanless mode. Note that the ambient temperature during testing was a relatively cool 65 °F, and temperatures shown below must be judged within that context.
Our first graph demonstrates the NH-L9x65's ability to cool a stock processor at idle. Not really a challenge, frankly – it can even get the job done in fanless mode! Note, though, the somewhat disappointing performance using the standard motherboard PWM profile – it is louder than the Intel cooler, without significantly outperforming it. This idle-state characteristic is the NH-L9x65's Achilles heel in our opinion, and as you can see, it's partly addressed by using the low-noise adapter, though the Intel cooler still beats it here.
Moving onto load testing, both in a demanding 3D game (Battlefield 4's multi-player mode), and using the stability testing application Intel Burn Test, we see the little NH-L9x65 pushed to its limit. Fanless mode completely fails here, but Noctua makes no claims about running the product without a fan. We simply wanted to test if it was possible, and indeed, it really isn't, at least not with a quad-core processor running demanding applications. More impressive is its behavior using the low-noise adapter. Note that with the adapter in place, fan speed is only reduced by a few hundred RPM, but this results in a better overall balance of noise and temperature, in our opinion. The Noctua cooler is able to outperform the Intel cooler even at the latter's buzzy maximum RPM. Keep in mind that the Noctua's idle noise characteristic when using the adapter is quite good as well, as shown in the previous graph. Also note that we don't provide noise levels for the gaming scenario, due to the significant background noise resulting from the video card and power supply running at high load.
Now for a real test of the NH-L9x65's mettle: a Core i7-4770K running at 4.4GHz, pulling 1.18V. Note that this is actually a fairly low voltage level for such a high overclock, so even if your processor hits this speed with large coolers, running it at this overclock with the NH-L9x65 may not be possible if you need a lot more voltage to achieve it. The idle-state numbers aren't where we'll separate winners from losers, but we include them below for the sake of completeness.
We've dropped the fanless and low-noise configurations here, because they simply don't make sense when running an overclocked quad-core processor. As before, the NH-L9x65 just isn't any better than the Intel cooler when using PWM motherboard control. For more insights, let's look at the load numbers below. We immediately see that the NH-L9x65 is in an entirely different class as compared to the Intel stock cooler, despite similar idle characteristics:
The Intel cooler falls flat on its face, bumping up against the temperature limit in Battlefield 4, and failing immediately under the stress of Intel Burn Test. The Noctua cooler comes out quite a bit better. While it can't survive the Intel Burn Test torture session without hitting the limit, its performance in a more mainstream application, Battlefield 4, is fantastic. It allows the CPU to maintain a lower temperature than the Intel cooler does at maximum RPM, despite a very reasonable noise profile.
Conclusion
Ultimately, the Noctua NH-L9x65 cannot be judged based on its price alone, as it would have to compete against big tower-style coolers that vastly outperform it. Instead, it must be viewed in the context of its form factor. Being constrained to the footprint of the stock Intel cooler is quite a limitation, but for many PCs, this is really all the room you have to work with. The NH-L9x65 is likely among the most powerful coolers ever designed that still fits within this footprint, and without a doubt, it is a magnificent bit of engineering when compared to Intel's rather basic cooler.
There's no doubt that the cooler offers a classy design, but we do think the price is a bit steep for the performance you get, especially considering the price of the "free" Intel cooler. In one situation, however, the NH-L9x65 was a clear all-around winner, and that was when it was tested with its included low-noise adapter, using a stock quad core CPU. With performance that beat the Intel cooler even at the latter's maximum RPM, but with a noise profile very close to the Intel cooler at low RPM, there's no doubt that used in this configuration, the Noctua NH-L9x65 is an ideal choice for low-noise, mainstream-performance aficionados. Our opinion is that the fan included with the cooler is tuned just a bit too much towards the high end, with a fairly buzzy maximum RPM that truly wouldn't be of much use to most PC users. If you need that much cooling power, you'll either have a PC that can fit a larger, more effective cooler, or you're just pushing your mini system a bit too hard! And while we appreciated the Noctua's excellent performance during a gaming session on our overclocked CPU using standard PWM controls, we think the idle state noise level without the low-noise adapter in place just isn't fitting of a relatively expensive cooler. The NH-L9x65 thrives under more moderate conditions, where its ultra-slim fan doesn't have to do quite as much work and the big heatsink can do most of the heavy lifting.
All in all, then, the Noctua NH-L9x65 offers a winning combination of build quality, features, and performance for a niche, informed audience, willing to work within its limits to achieve truly stellar performance in an ultra-compact form factor. The Noctua NH-L9x65 is available for $55.99 shipped through Amazon, as of our publication date.