Corsair K70 RGB Mk.2 Low Profile Rapidfire Keyboard Review
Pros
Unmatched industrial design; sublime switch actuation; silent operation; amazing RGB lighting effects
Cons
Software is comprehensive but as clunky as ever
Rating
Introduction
Here at The Tech Buyer's Guru, we've been through our fair share of mechanical keyboards. We've tested models based on Cherry MX Red, MX Brown, MX Rapidfire, and MX Silent switches, we've tried models using proprietary switches from Razer and Logitech, TTC switches in Roccat models… basically, we've seen it all. Until today. While everything so far has just been a riff on the original MX switch introduced way back in the early 1980s, what's beneath the multi-colored keys of Corsair's new Low Profile Rapidfire keyboard is something completely different.
Is this the one we've all been waiting for? In a word, yes!
We'd like to extend a special thank you to Corsair for providing us with a review sample of the K70 RGB Mk.2 Low Profile Rapidfire Keyboard.
Description and Features
The K70's basic design has been around for quite some time, and in fact is still the high-end board against which all others are judged. Part of that is due to its clean, uncluttered lines, compact size, and elegant brushed metal faceplate. The new low-profile model deviates only slightly from the mold, coming in at 17.24″ wide and 6.61″ deep (or about 9.25″ deep with the attached wristrest), with the biggest difference being height: it's just 1.14″ tall. It also drops about 1/3 of a pound versus the most recent Rapidfire model.
The big news is what you can't see, and that of course, comes from Corsair's German partner Cherry. The new Low Profile switches are based on the lessons learned over 30 years of manufacturing MX switches. We had the opportunity to meet with Cherry at CES back in January 2018 to discuss the development of these new switches, and Cherry clearly did its homework. These switches weren't just designed to be smaller, they were designed to be better. They were also created for RGB lighting from the start, rather than retrofit with it after the fact. Most importantly, and this is where we think the biggest advancement is, they are quiet! Yes, as in as quiet as Cherry's MX Silent switches, but without the feedback-robbing o-rings that MX Silent switches used.
Here are details on this new switch direct from Cherry: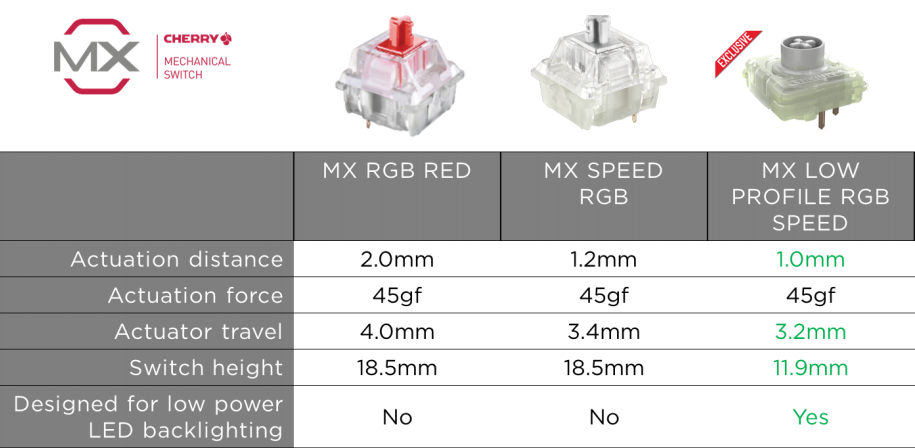 One really important aspect of the design that we dug into technical documents with Cherry to understand is that the actuation force at the top of the key travel has been increased. This is critical for reducing inadvertant key presses in a short-throw switch. It was one of the biggest problems plaguing the original MX Rapidfire design, which was clearly trying to make an old, long-throw switch into something it wasn't quite meant to be. We've been using the original K70 MX Rapidfire for two years now, and while we love the quick response, we've never gotten around this critical flaw in its design – even lightly resting a thumb on the space bar would send the cursor shooting out across the page. Cherry knew this, and they've fixed it in this ground-up re-design.
Corsair has also been hard at work improving the software side of things. The Corsair iCUE software keeps getting better, and while it still tries to do perhaps a few too many things, we like where Corsair is going with it. The new Instant Lighting tab allows users to quickly set a single color without a bunch of fuss. It also serves as a home base for all Corsair peripherals you may have in your gaming suite.
Corsair already had the best hardware, and nothing needed to change there. We've mentioned the K70's industrial design, but also important is the RGB controller. We've tested far too many RGB products that use lame RGB controllers with extremely limited color ranges and slow processing, which produces "stop-action" lighting that isn't worth bothering with. Corsair, on the other hand, uses a high-resolution RGB controller that can produce smooth, seamless color transitions for when you want to really impress your friends with a light show.
Next you'll see the K70 in action!
Performance
To help you get beyond the specifications, we've put together a video that shows just how revolutionary the new K70 Low Profile Rapidfire is. We compare it to both the original MX Rapidfire, as well as to MX Red, in order to demonstrate why this is truly the next-generation product to beat.
Conclusion
So, yeah, this thing's pretty awesome! The competition will have a lot of catching up to do if it wants to match what Cherry and Corsair have created in the new K70 Low Profile Rapidfire Keyboard. It combines everything we love about mechanical models, and then takes away the stuff we don't need, like extra noise and extra-long travel. This is the one, folks!
The Corsair K70 RGB Mk.2 Low Profile Rapidfire Keyboard is available for $169.99 shipped from Amazon, as our publication date, and earns a spot as the ultimate gaming keyboard in our Peripherals Buyer's Guide, which is updated quarterly with all the best products at every price point!